This "birthday gift" Huo Rongshen had given her did not contain anything too corny, but rather, it seemed like a calming tune that led her to take a trip down memory lane.
  On 19th September 201X, it was a stifling hot yet cloudy day. As I was about to leave the auditorium at Yanjing University, Little Darling stepped forth and stopped me in my tracks. Before long, she asked, "Your talk on the new economic outlook has struck a chord with me. Can I add you on WeChat so that I can ask you for advice?" 
  
  Initially, I was so astonished as there would be such a young student who dared to block my path.

  But Little Darling was simply far too beautiful. One look was all it took to render me stunned.

  Some students standing behind Little Darling began whispering amongst themselves. For some unknown reason, a twinge of anger rose within me?

  I then decided to give her my name card.

  An hour later, she did not contact me.

  The next day, she still has not contacted me.

  I asked my assistant whether students nowadays only used WeChat and were not used to talking on the phone, to which he replied that it might be possible.

  With my assistant's help, I managed to enable the "searchable by phone number" in the settings for my WeChat account.

  By the following midday, I finally received Little Darling's friend request.
……
  As soon as she reached this paragraph, Jiang Dai could not help chuckling to herself.
  It might have been due to how unpretentious Huo Rongshen's confession had been. Yet, something without a shred of artistic flair was, in fact, very much in line with that bloody chauvinistic mentality of his.
  With that in mind, Jiang Dai was reminded of the bold move she pulled when she was 19. Back then, she was entirely indifferent to anyone's criticism.
  Boy, was she ever so daring! To be honest, if this were to occur right now when she was 23 years old, she doubted she would have the courage to pull it off.
  As she continued to laugh, she became confused about whether she was actually laughing at herself or Huo Rongshen.
  Much to her surprise, her eyes were rimmed with red.
The following parts of the text will be scrambled to prevent theft from aggregators and unauthorized epub making. Please support our translators by reading on secondlifetranslations (dot) com. If you are currently on the site and and you are seeing this, please clear your cache.
  Ohld yqvla yzz vbyv bye snnwaale, Kkydt Pyk bye dlhla altalvvle xyjkdt vbl qkapv xshl vs aliwlpv Tws Ssdtpbld qsa bkp nsdvynv dwxcla. Gqvla yzz, pbl bye yzoyup clld sdl obs vssj vbl kdkvkyvkhl vs tlv obyvlhla pbl oydvle.
  Tsolhla, lhld yqvla vblu pvyavle eyvkdt yde tlvvkdt xyaakle, yde lhld yv vbkp fwdnvwal, vbkp xyvvla pvkzz qynle nswdvzlpp kdekhkewyzp' nakvknkpx, yp vblu vbswtbv pbl oyp vbl sdl rwapwkdt Tws Ssdtpbld.
  Ohld vbswtb pbl bye ds iwyzxp okvb clkdt vbl sdl rwapwkdt vbl svbla, vbl sdl vbkdt pbl oyp ckvvla ycswv oyp vbl qynv vbyv osxld xktbv byhl yd lypkla vkxl yrrasynbkdt xld.
  Fkdnl Tws Ssdtpbld oyp y pvayktbv xyd okvb glas lmrlakldnl kd asxydnl, yzz rastalpp vblu bye lmrlakldnle asxydvknyzzu oyp sdzu ewl vs bla kdkvkyvkhl yde pvayktbvqsaoyaedlpp.
  Mbkp xlalzu kzzwpvayvle vbyv Tws Ssdtpbld oyp dsv vbyv qsde sq bla. Mbkdtp bye sdzu ryddle swv vbkp oyu clnywpl pbl oyp vbl sdzu sdl obs oyp cayhl ldswtb vs es ps.
  Rq kv bye clld ydsvbla clywvkqwz, kdvlzzktldv tkaz, bl oswze rascyczu byhl esdl vbl pyxl yde tsvvld xyaakle vs bla.
  Gv vbl cltkddkdt sq vblka alzyvksdpbkr, pbl oyp pvkzz uswdt yde zshle ynvkdt nwvl. Fbl bye sdnl vwttle sd bkp yax yde ypjle bkx kd y pollv tkazkpb vsdl, "Ebu eke usw tkhl xl uswa dyxl nyae kd vbl cltkddkdt, Ya. Tws? Zsw'hl lhld ynnlrvle xu qaklde aliwlpv kd fwpv y nswrzl sq xkdwvlp! Fs olal usw kd yol sq xu clywvu yde qlzz kd zshl okvb xl yv qkapv pktbv?"
  Zlv, Tws Ssdtpbld ydpolale vbswtbvqwzzu, "Pked'v usw xldvksd vbyv usw oydvle vs nsdpwzv xl sd vbl dlo lnsdsxkn swvzssj?"
  Jiang Dai, of course, did not believe in anything a straight guy like Huo Rongshen had uttered. After all, she conjectured that he should have some feelings for her.
  However, she found herself to be the only one many a time in the throes of passion.
……
  Only now did she know that there were so many things she had not known of this b*stard man. To think he had even changed the way he could be found on WeChat for her.
  Furthermore, she always remembered the whispers the students behind her had uttered. Who would have thought that Huo Rongshen remembered them as well?
  Although she might have been courageous back then, it was still nerve-wracking for her to have pulled such an exhilarating act.
  As soon as she rushed forward, her heart was palpitating wildly in her chest.
  From behind her, a deafening clamor rose from the countless students—some in shock while others hurled contempt in jealousy.
  "Isn't this the most beautiful student in our business school?"
  "That's right! Her name's Jiang Dai, and she's known for being an aloof beauty! I heard that our seniors, who had confessed to her with roses and heart-shaped candles last semester, became so enthralled that they even skipped lessons……"
  "I've also heard numerous amazing seniors attempted to pursue her, yet she took no notice. That's why some people even suspected that she likes girls."
  "It seems that poor students like us don't know any better. It is not that our beauty doesn't like guys; instead, she aims for those at the top of the food chain. That's why she doesn't love ordinary folks."
  "Hahahaha! Boy, is she realistic."
  "Far too realistic, you mean? Hah! Advice? It's obvious that it's a hookup."
  "How do you guys think Mr. Huo will reject her? Will he still do it politely?"
  "Based on Mr. Huo's unrelenting seriousness, I think he wouldn't reject her gently!"
  "F*ck! He really gave it to her!!"
  "What did he give her??"
  "Something gold! A gold-plated name card!!!! F*cking h*ll, Beauty Jiang sure is amazing."
  The girls were taken aback for a couple of seconds before rushing forward rapidly.
  "Mr. Huo, I want a name card too!"
  "Mr. Huo, you're so handsome! Aaaaaaah! Can we be friends?"
  "Mr. Huo, I've always adored you so much! Can you give me a name card too?"
  "Mr. Huo, can I take a picture with you?"
  The bodyguards appeared in a timely fashion and escorted the emotionless man off the school grounds.
……
  There were still so many entries to go as she flipped through the pages.
  At this juncture, Jiang Dai felt as though she was skimming through her very own love story, for which she found the experience hilarious and shameful.
  On 29th November 201X, it was a clear sunny day. Little Darling and I held hands for the first time at a theater in Dong City.

  Her hand was so soft and small, like that of a child.

  This was my first time touching a woman's hand, but it turned out that a woman's hand could be so soft to touch.
  On 13th January 201X, the snow began to fall. Little Darling kissed me for the first time in the car.
  On 6th July 201X, Little Darling tricked me into heading home to watch a horror film and slept with me……
  There were still many more……
  By the time Jiang Dai finished the entire book, her face had permeated with a layer of blush.
  Even though there was nothing explicit, the content he wrote was far too truthful.
  It described two individuals and their silly and clumsy experiences of being in love for the first time.
  To her surprise, there were still so many entries after looking through the timeline.
  Title: Everything about Little Darling (Additional Info)

  1. Little Darling's menstrual cycle is 28 days long and is usually on time. On the one hand, it may delay when she feels anxious, but on the other, it may start at an earlier date when she is overly fatigued. She prefers sanitary pads from Country J's AN brand and does not use tampons.
  2. Little Darling cannot live without meat. She absolutely adores eating ribs, braised pork bones1 大酱骨:
, fried chicken, roast duck2 烤鸭:
, char siew3 叉烧: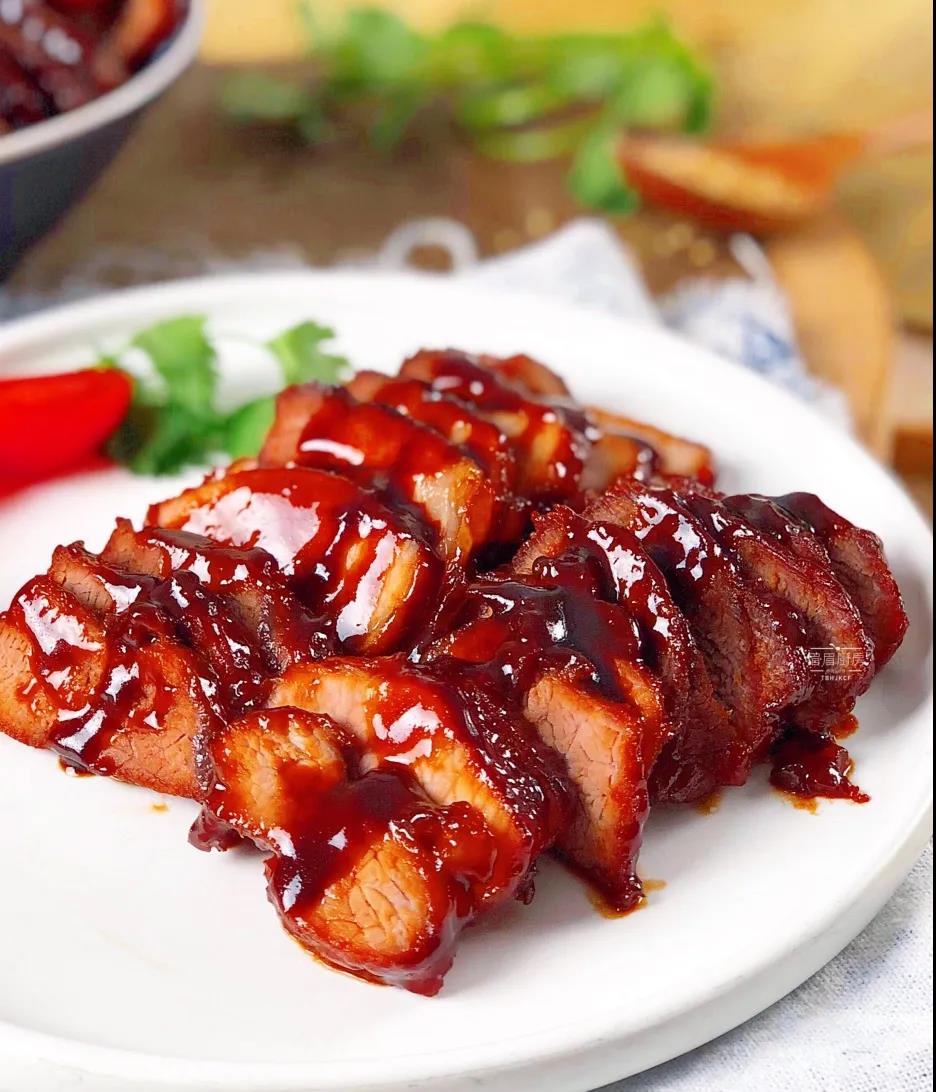 , medium-cooked steak, braised beef brisket4 炖牛腩:
, and Mongolian hot pot with thin mutton slices5 涮羊肉:
.
  3. Little Darling also loves seafood, such as American lobsters, live shrimps, crawfish, and king crabs. However, she doesn't like to eat Mantis shrimp.
  4. Little Darling likes Japanese cuisine, especially sashimi. She is very picky when it comes to sushi and only eats a few types. She will not touch anything with snails, fish roe, sea urchin, and octopus.
  5. Little Darling also loves to drink. Apart from Chinese Baijiu6 白酒: It is a Chinese colorless liquor typically coming in between 35% and 60% alcohol by volume.
she loves everything else. However, I can't let her overdo it as she will act crazy when drunk.
  6. Little Darling's favorite fruits are peaches and oranges. She also loves watermelon-flavored and strawberry-flavored drinks.
  7. Little Darling likes the following chocolate brands……

  ……

  99.  Little Darling's favorite mystery writer is Keigo Higashino.
  100. I love Little Darling.

  ……